I will NEVER forget this day....
Not for my WHOLE life! To say that Bear was excited for HIS birthday trip to Disneyland was quite an understatement. On Sunday, he randomly came up and gave me about 50 hugs throughout the day. At about 7 p.m. he started suggesting that maybe we needed to go to bed so that we could be up plenty early for our flight and have enough rest for the day. It was hilarious!
Monday, my alarm went off at 5. I rolled out of bed, started to get ready and went to check on Bear. There he was... on the couch, with his hat on, sock and shoes, etc. All ready to go! What a crack up! He is quite the little chatterbox and he followed me around the house while I finished up a few last minute things... then we were off!
The day started off over-cast and was sometimes a little chilly (compared to our heat that we are used to), we went to get Bear's FREE ticket to Disneyland and to buy mine...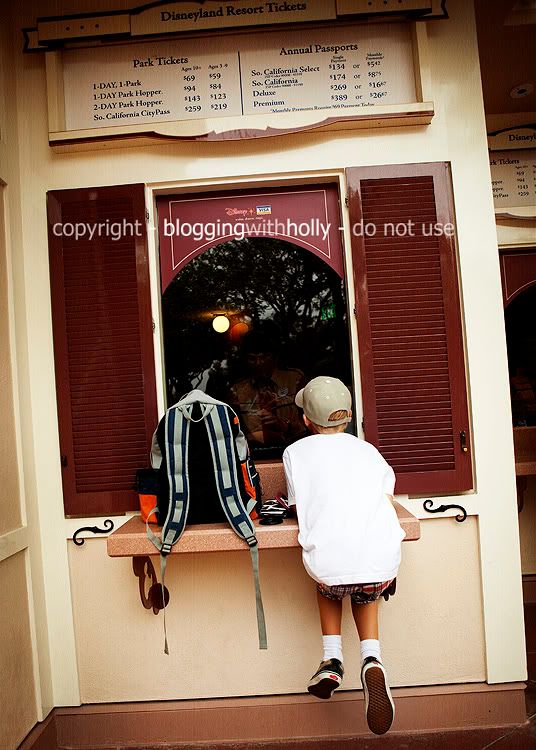 Then we were off to wait... and cross our fingers... and hope, hope, hope that Bear would be chosen for the Jedi Training...
He was!!! Wahooooo!!! It might have helped that he was wearing his "Birthday Button" from the great folks at Disneyland, that he was jumping up and down on the front row (since we got there plenty early), and that I was holding up both hands over his head yelling, "He's 10 today!!! He's 10 today!!!" Ha ha!
I got some pretty cool pictures of him fighting Darth Maul. He REALLY got into it! It was awesome! I LOVED his face as he walked away and "disengaged" his light saber.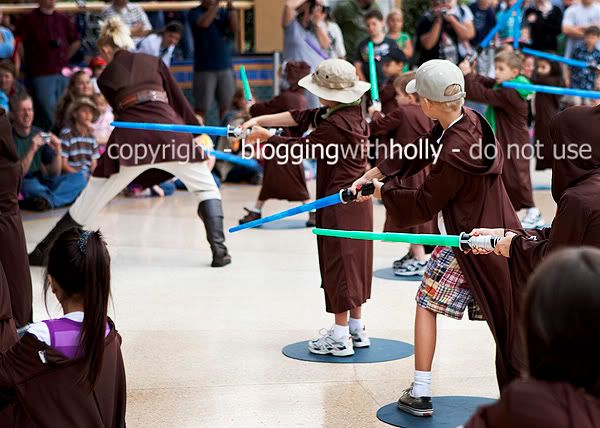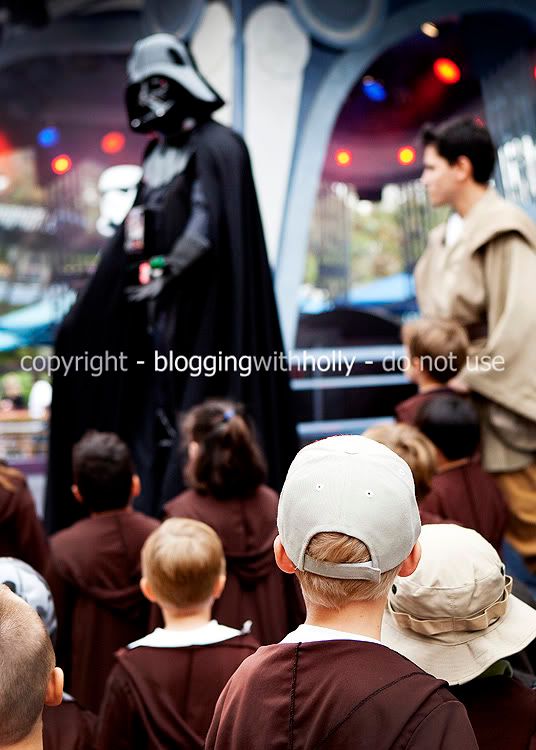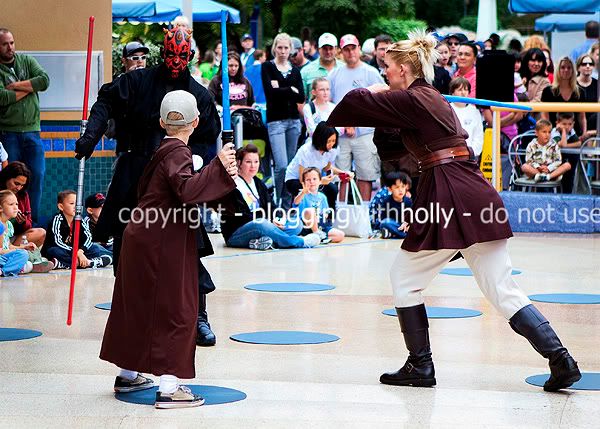 We used the FastPass system like nobody elses business, sometimes having 3 Fast Passes at a time. We rode Space Mountain, Buzz Lightyear Astro Blasters (a few times), Star Tours, Indiana Jones, Thunder Mountain Railroad, Splash Mountain, It's a Small World, Roger Rabbits car spin, the Jungle Cruise, etc., etc. We even took a few minutes to enjoy a "Dole Whip" and listen to the birds sing in the Tiki Room. Good times!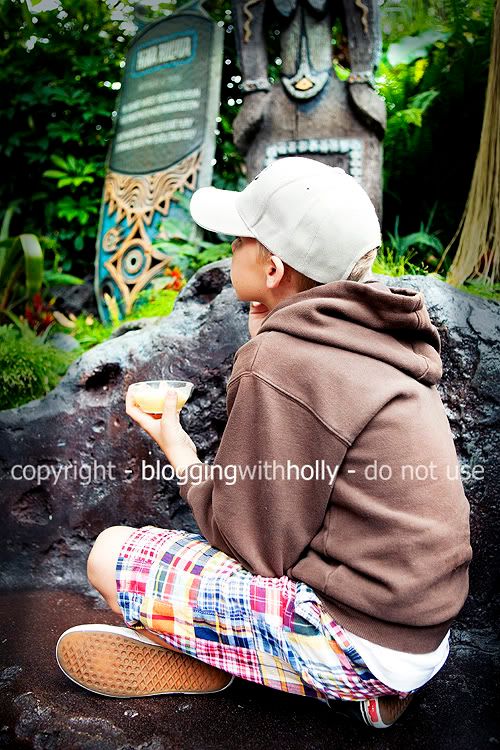 We left for a few minutes to shop in Downtown Disney at the LEGO store, of course. Then it was back to Disneyland to finish wearing ourselves out.
When Bear finally decided he was done and ready to go back to the hotel, we were walking hand in hand, swinging our arms back and forth... and he said, "Thanks Mom, for this day together! I'll NEVER forget it... not for my WHOLE life!" He reached an arm around my back, snuggled his head into my side, and we walked down Disney's Main Street, enjoying the lights... happy and smiling from ear to ear.
Tuesday morning, Bear slept in until 8!!!  Anyone who knows him, knows just how STRANGE that is for him.  I'm not sure that he's ever slept past 7... EVER!  We shared a delicious breakfast at Mimi's Cafe and then headed to the airport to fly home.  Our time together was perfect! Definitely a day that I will never forget!!!