It's about stinkin' time....
is all I have to say. Hmmmm.....how long have we lived here? Over 3 years. Okay, wow! So, it's time. Time to put some curtains on my bedroom windows. Oh yes. You heard me right. Curtains. On my bedroom windows. Why in the world has this taken me so long? Well, you see, when we moved in I was tired of my bedding and even MORE tired of my headboard. We bought this lovely about 10-11 years ago (Amanda, do you remember if I bought it before or after Bear was born?)....used....while we were poor, poor students. I still remember just how excited I was to FINALLY have this headboard - because it meant that we could finally throw away this nasty waterbed frame that we'd had (with a real mattress in it, of course). When we got our "new" headboard, we karate chopped and kicked our old frame to pieces and tossed it in the dumpster at our apartment complex. THAT felt really good!
Okay, just so you know - YES, I did see the magazine on my bench and the dirty shirt wadded up on the floor before I took these pictures - but I was feeling a little lazy after my 2 hour workout this morning and all of my fabric shopping, and quite frankly, I didn't care enough to move them. So there they are. And there they will probably stay, until at least tomorrow!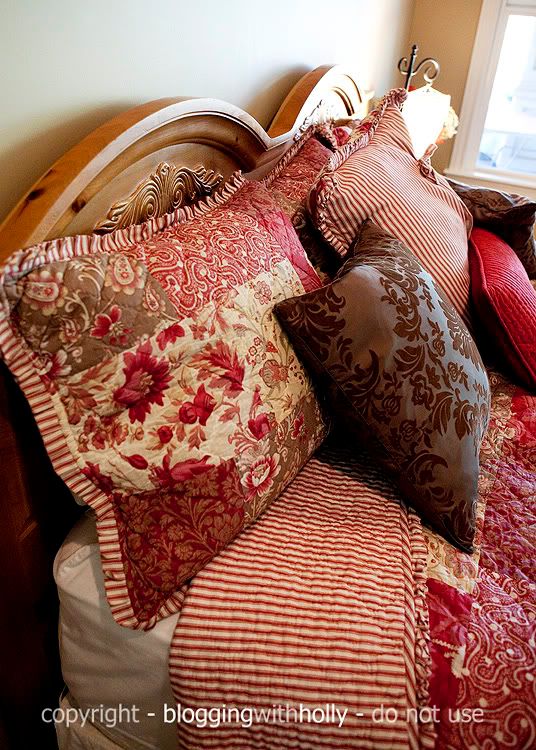 So, I've been searching and searching for the perfect headboard. I thought that I'd found it, but am having second thoughts (good thing I didn't order it, huh?) BTW, what's up with all of my ( )'s? Okay, back on track. I would like your opinions. I was thinking of ordering an off-white-ish bed (to match my bench at the end of the bed), but am now thinking maybe a dark walnut. I don't really know. Normally, I'm not quite so indecisive. Oh goodness....just give me your opinion!
Today, I snuck out for a few hours and had some samples of some different fabrics cut. It was fabulous, wandering aisle after aisle of different fabric stores - no potty breaks, no whining, no teasing, no pulling on my leg. Just me and hundreds and hundreds of fabrics. That is pretty heavenly! I got home, narrowed them down, weeded some out, and this is what I'm thinking. I want to maybe add a teeny ruffle around the edge of the PB quilt....just to add a little something....so it's not so boring. I'm thinking roman shades mounted to the inside of the windows and then a long, billowy panel on either side. I want to do different end tables on either side of the bed - something dainty and girly on my side and something manly and boxy on The Hub's side. Then maybe some small chandeliers on either side of the bed (if I can't find the perfect lamps). But I'm committed to start this project (and hopefully it won't take me a year to get this thing done!)  I just want this space to be super-romantical for me and my favorite person in the whole wide WORLD!!!