Sharing in one of life's most tender moments....
On Saturday, April 9th, I was invited to share in a sweet families tender moment, and I'm quite certain I experienced something I'll never forget. Something that changed a part of me.
As I was enjoying my time with my baby sis in town, I took a few minutes to check my e-mail before heading out with her to do some house hunting. I was giddy with the thought of her and her little family moving back to paradise and excited about the thought of spending the day with my mom, aunt, and two sisters. My heart sunk as I read an e-mail from a blog reader, asking me if I might know of someone or be able to go to the hospital to take pictures of her sister's baby who had been born 17 weeks early. It was something I KNEW that I needed to do.
After we exchanged e-mails and I spoke on the phone with the sweet baby's grandmother, it was decided that I would head to the hospital on Saturday to take pictures for them. The hospital that their grandson had been air lifted to was pretty far from my home. The whole way there I prayed for strength and peace and to be able to control my emotions and to know the right words to say. How do you comfort someone you've never met before? What do you say when you just want to embrace the parents and tell them how sorry you are...that you cannot imagine their pain. How do you sit in a room with them, waiting to be let in the NICU and not feel guilty talking about your own children, when asked?
As we walked into the NICU, I was amazed at all of the critical, tiny babies there...hooked up to machines that were keeping them alive, helping them breathe, giving them nourishment. I saw big machines and nurses scurrying in all directions. As I scrubbed up I began to wonder if I'd be able to take pictures. The doubt began to creep in. I prayed again that I'd be able to focus. I told myself to just do what I could to capture something special for these parents to treasure for the rest of their lives. I was strong...
I truly felt blessed to be invited to share in such a tender moment. The parents were allowed to lift their sweet baby boy a few inches off his bed and "hold" him for the first time. It was their first chance to gently press their lips to his face....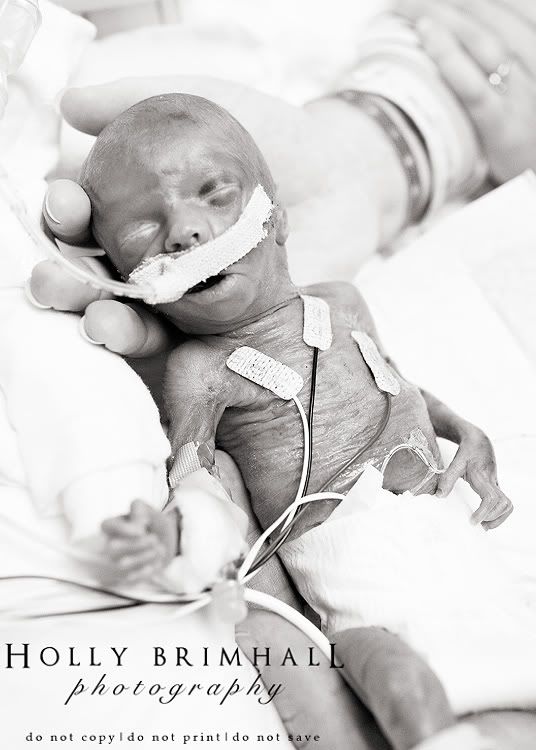 He was so tiny, so perfect. He even had tiny little eyelashes. I was blown away at how perfectly he was formed, yet knew that the doctors had given the news that he would not survive, and my heart started to break...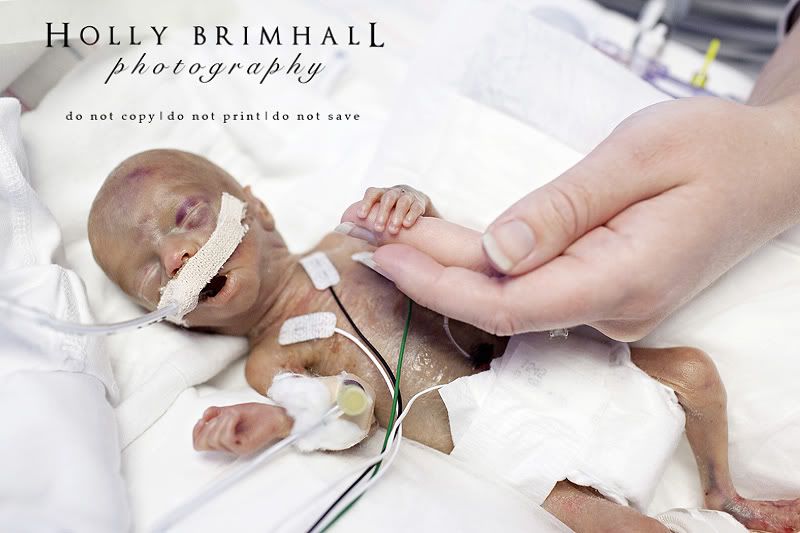 I held it together pretty well, until he got the hiccups. He wasn't used to so much stimulation and his little body reacted to all of that touch. His sweet mother's hand flew to his chest and she quietly said, "I never got to feel what it was like for him to have the hiccups," as tears fell off her cheeks. It hit me all at once...and it hit me hard. I wanted to run from the room and find a bathroom stall to cry in. Instead, I turned away and tried to breathe.
How could I not feel this mother's pain? This mother who had such hopes and dreams for this first born child of hers. I remembered how quickly I fell in love with my first baby. As my pregnancy progressed, I woke up one morning to some bleeding that I thought was much too heavy to be normal. Instantly I wondered if MY dreams would be taken from me. Would I be able to see his first smile, hear his first giggle, watch his first step, play ball, send him to kindergarten with tears streaming down my cheeks? I found out later, it really wasn't that much bleeding and was fairly normal. In my case, everything was fine, I was able to carry him full-term and have lived those dreams. How can you NOT ask why? Why will this mother have to experience such heartache? Why was my heart spared that aching? And although I don't have the answers to those questions, I do know two things. One - That this sweet baby boy has an AMAZING spirit. You could just FEEL it! And two - That this family will be together forever. That someday they will be reunited and what a special day that will be!
As I left the hospital, after hugs and tears, I walked as quickly as I could to my car...anxious for the solitude of my car parked in a dark and heavy parking garage. I sat there for a long time. Sometimes crying. Sometimes praying. Sometimes just trying to breathe.
Almost a month has passed since I was invited to share in this tender moment. But every time I look at their pictures, the memories come flooding back. I think about this angel baby's mother almost every single day...and I pray for her....and her husband...and her sweet, angel baby.