14 Crazy Cousins....
When Sherida called me and asked if we could get a "cousins picture" before some of the cousins moved to Alaska....my brain starting chugging through ideas. I knew it'd be hot outside and I knew the kids wouldn't last long. 14 kids - 10 years and younger. Whew!
We had about 25 minutes - start to finish. But managed to get some awesome shots! Here is one of the group!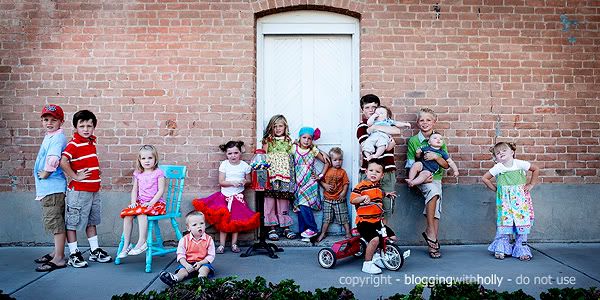 Registration is now open for the Mesa, AZ "Picture Life Workshop" in November. Come and learn how to take all of those fabulous photos JUST in time for the holidays!!!!
We are also already scheduling the mini-photoshoots. We have filled a few of the spots but still have some openings available.
The mini-photoshoots will be held on Friday, September 11th in American Fork, UT and Friday, November 6th in Mesa, AZ. For just $200, you will receive:
30 minute session with BOTH of us.... how cool is THAT?
10-15 proofs presented in an online gallery
2 holiday card layouts presented in an online gallery
Your choice of option A, B, or C
Option A: 24 holiday cards, 1-8x10, 2-5x7's
Option B: 3 full resolution digital files with copyright release
Option C: 1-10x20 storyboard, 2-5x7s
*Additional prints and specialty items may be ordered
To schedule a time, please contact us at picturelife@live.com. We will also be available for a full newborn photoshoot the morning of September 11th in UT or November 6th in AZ. For pricing, please see 
Amanda's
website.