Since it's almost Christmas....
it seems like the perfect time to write about Thanksgiving. Ha ha! At least, that's what I'm telling myself. Because if I don't start trying to get caught up now, well....I doubt it'll ever happen. Goodness!
This past few days has been a blast full of having my baby sister and her husband and my parents staying with us. It is helping me to get REALLY excited for Christmas! Yay! I can't wait!
Thanksgiving this year just happened to be pretty perfect! Hosting my dads side of the family, being together to celebrate my grandparents 60th wedding anniversary, playing games, giggling with cousins, and even taking a few pictures. Since just about half of my dads side of the family lives in Utah, we had a much smaller crowd....close to 60, I think. All I know is that we ran out of plates and didn't have enough chairs set up. Whoops!
Unfortunately, we didn't get around to taking a group picture until a bunch of people had already left.....some were attending TWO Thanksgiving dinners. That makes my belly hurt just thinking about that. But here's a picture of the LUCKY ones....the ones LUCKY enough to hang with me :)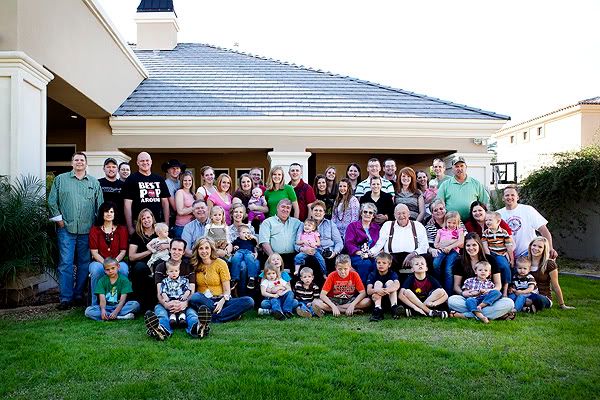 Then we watched a video that my cousin, and one of the coolest girls I know, Cami, put together with family pictures. It was fun to watch my grandparents reactions. My family ROCKS!