What can $19.32 buy these days?
A cute shirt at Target? A small package of diapers? Dinner for 6 at Chick-Fil-A as long as you don't buy the meals and just drink water? Well sometimes it's amazing how far you truly can stretch your dollar. A few days ago we hit up the
Alpine Valley Bread
store for their almost expired whole grain bread - 2 loaves for $1. We bought 14 loaves. They freeze GREAT! Then we headed over to the
Superstition Ranch Market
and got strawberries for 25 cents a pound! We ended up getting 25 pounds of strawberries, 3 mangos, 2 pineapple, and 2.5 pounds of blackberries for $12.32. Grand total...$19.32.
The kids were GREAT! I stemmed them, Moose and Little Miss sliced them, and Bear bagged them. We sang along to my ipod - random songs - some Christmas, some church, some rock, some children's. The boys moaned while Little Miss and I belted out the Strawberry Shortcake theme song, Moose got his groove on while singing along to Queen's "Another One Bites the Dust". We snacked on juicy strawberries and sweet pineapple and ended up having a fabulous time together. Now we have a nice stash of strawberries for smoothies and to top off our waffles and whipped cream. Delicious!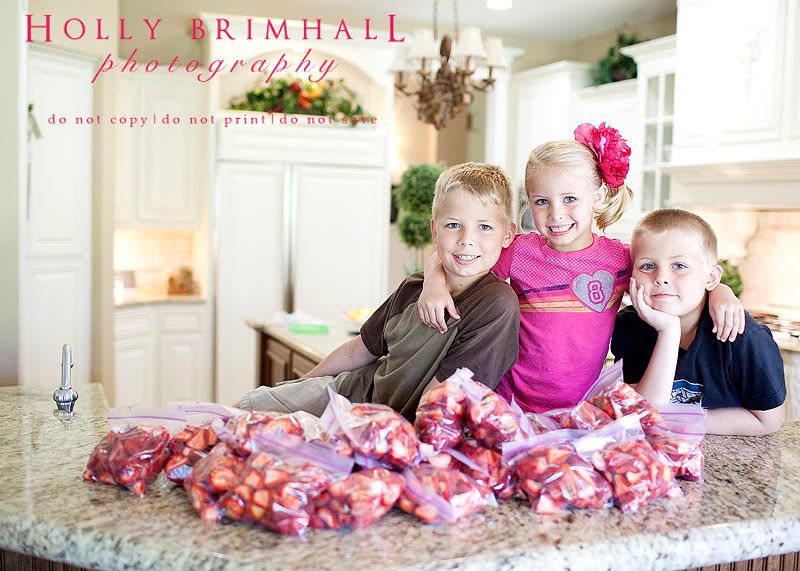 The next day we headed back for 16 more pounds of strawberries. I think we'll be set for awhile!