Almost professionals....
Okay, well that might be pushing it a little! But we watched a YouTube video or two and decided we would attempt a few projects on our own and save some money. There's something about doing a project on your own that makes you feel really good about yourself...especially when it turns out pretty much just like you'd hoped!
Over the last few weeks, my dad and Brett put up a few walls, hung some drywall, put in some doors, and added TONS of shelving - which makes me happy. Yay for storage! And yay for a big new pantry! And yay for my amazing parents who drive 3 hours to come and help us work on the house for a day and a half and then drive 3 hours home...just to turn around and come right back the next weekend to help again!
I did remember to take my camera to the house yesterday and took a few pictures, but I'm wishing I would've taken more. I often take my camera to the house...but feel like a weirdee pulling out my big ole camera with all of the workers around, so it always ends up staying tucked away in the car. But on Sundays, when there is nobody there, I'm fine to snap away. I'm just mad at myself that I didn't take more pictures than I did.
I did, however, take some pictures of what Brett and I have been working on. Nothing better than heading over to the house for date night - hearing the whir of the miter saw and the snap of the nail gun. Well, okay...I can think of some better date nights...but it actually has been kind of fun...kind of.
Here is the new piano room. Behind the wall is a huge-mongous pantry with loads and loads of shelving and room for our upright freezer. No more running downstairs to get food out of the freezer. Yay, hooray!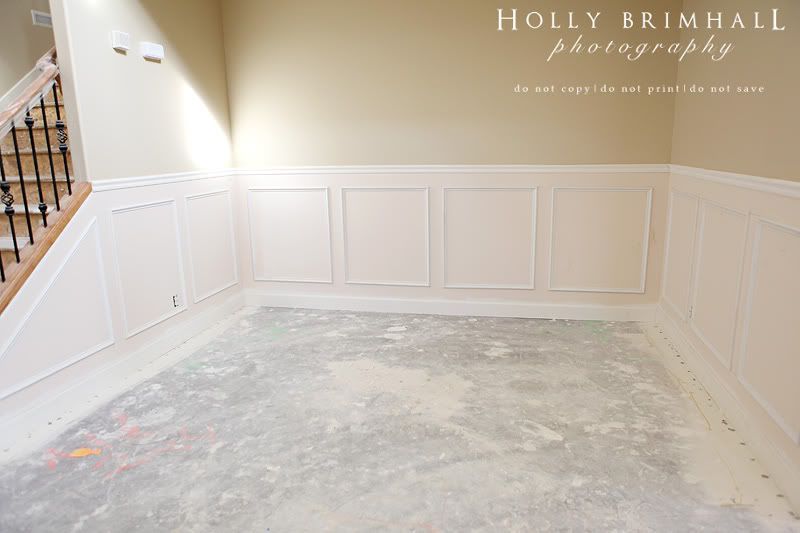 Are you so proud of mine and Brett's handiwork? Okay, so it's not painted yet. But just imagine the room above, from the chair rail down, painted in a creamy Swiss Coffee paint. It will be divine! With dark wood floors and a beautiful chandelier hanging over my grand piano. Can't wait!
Next we decided to tackle trimming out the island. Yikes! I know! I was kinda freaking out... wondering if we were up for the job. I must admit, we do pretty good work. It does help that I'm a bit of a perfectionist. It doesn't help our marriage (wink, wink), but it's helpful in other areas (right?).
It's going to look even more lovely when they add the antiquing glaze to it. Can't wait!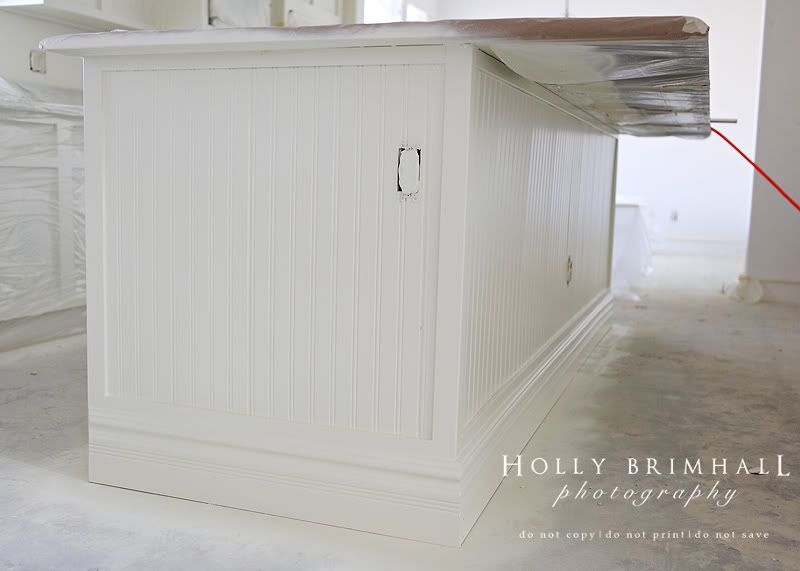 And since we were on such a roll, we decided, "Heck! Why not add some beadboard to the ceiling in the entry and trim it out with some big crown molding?" (I think it's gonna look awesome when it gets caulked and painted). The chandelier I have picked out for this spot makes me all giddy and happy inside.