Coolest Design...slowest car....
Maybe that's how we'll remember Moose's very first Pinewood Derby.
Okay, so I'm lying. He didn't have the slowest car there. He was probably more in the middle, but that is NOT how the Brimhall family does Pinewood Derby. Normally, we spend a week or so, deciding exactly what shape to cut. Then hours are spent painting coat after coat after coat and then doing coat after coat of that clear shiny stuff. We buff the wheels and sand the axles and make sure the weight is evenly distributed. We do a pretty decent job. Bear has taken second and third OVERALL, almost always winning first in his den. Decent, right?
This year we went to Michael's.
We found out about the derby just 6 days before it was to take place. What? 6 days? Which box is our graphite in? Which box are our paints and brushes in? When will we find time to design and cut the car? Oh yes, and which box is our phone in? (still can't seem to find that one). Too bad nobody knows that we have a ton of things going on - baby showers, birthday parties, cousins baptisms, playdates, family dinners...oh and an overnight getaway planned for just me and the Hubbers. 6 days just ain't gonna cut it.
So we walked into Michael's, grabbed a box of supplies off of the shelf, ran home, whipped it together, slapped the wheels on, and decided it was good enough. Brett and I just sat on the sidelines, praying that Moose wouldn't be disappointed. That his car wouldn't fall apart on it's first run down the track and that he'd win at least one heat.
Then they announced that four cars would race at a time. The winner could be proud that they won that heat. The three that didn't win, could choose a piece of candy from the bowl...chocolate to be exact. Whew! A huge sigh of relief from this momma. Thankfully, Moose is a chocolate LOVER and I think he might've prayed to NOT win so that he could get something yummy.
First heat - he chose plain M&M's.
Second heat - peanut M&M's.
Third heat - plain M&M's again.
Fourth heat - winner....dang! No chocolate.
And when the night was done, with remnants of a Twinkie car spread across his face...he was happy! Happy to have the car voted "Coolest Design" and happy to have some chocolate in his pocket. Awww...look. I'm a poet.
Apparently, Michael's has some pretty awesome looking kits because his car actually looked pretty cool...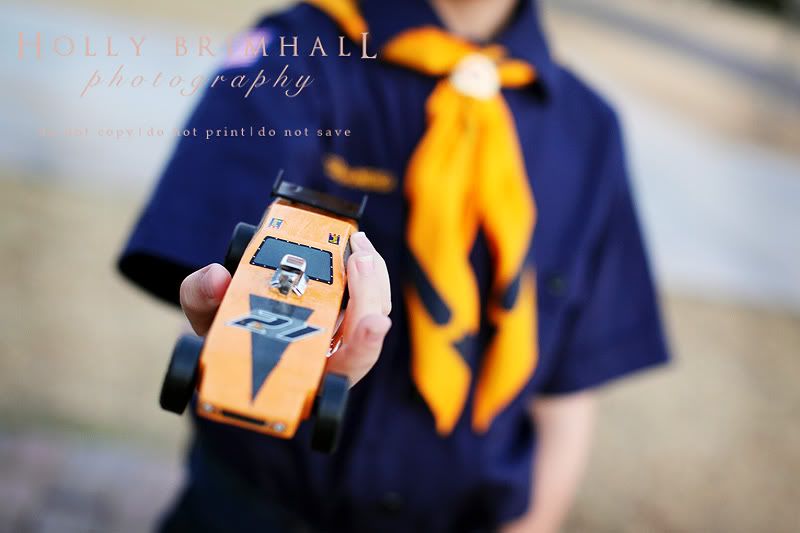 And I kinda just want to reach into this next picture and smooch on his cheeks for a bit... (yes, I did run to the scout store just BEFORE the derby to buy a new uniform - seriously, I should've labeled the boxes)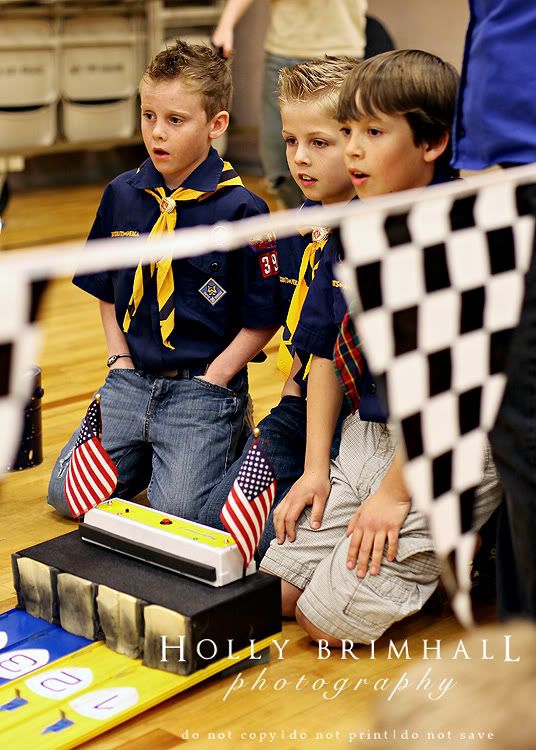 We are also used to a track that is about HALF the length of this one...which is something to keep in mind for next year :)
He's starting to load up on chocolate...
Happy 1st Pinewood Derby, bud! Love you to pieces!!!