Putting the FUN in dysfunctional...
Ha ha! Okay, that's the only title I could come up with. And when something gets stuck in your head like that, it's basically impossible to come up with anything else, right? I don't REALLY think our family is dysfunctional...we all actually enjoy being together. Life in Brett's side of the family has changed over the last few years since his mom passed away, but we all just roll with it and figure out how to make it all work.
* I really wish I was at church right now. Missing two Sundays in a row with sick kids makes it REALLY hard to get to know people. But with Brett in Texas and a puking little girl upstairs, church just isn't going to happen for us today. *
Brett's dad remarried a couple years ago - 2 years ago tomorrow, to be exact. Her name is Brandy. One day after they left our house, Little Miss (who really enjoys being with Brandy) was talking about "Granny" this and "Granny" that. I asked her what she was talking about. She said, "Grandpa's new wife. Her name is Granny!" I laughed and laughed and said, "No, it's not Granny. It's BRANDY." Brandy is 6 years younger than me. I wouldn't want to be called Granny if I were her :)
A few weeks ago, Brandy gave birth to twins - a beautiful girl and handsome boy. Shortly after their birth, John came to Phoenix to teach a seminar with Brett. On the second day of the seminar, Brett decided to wear this to work: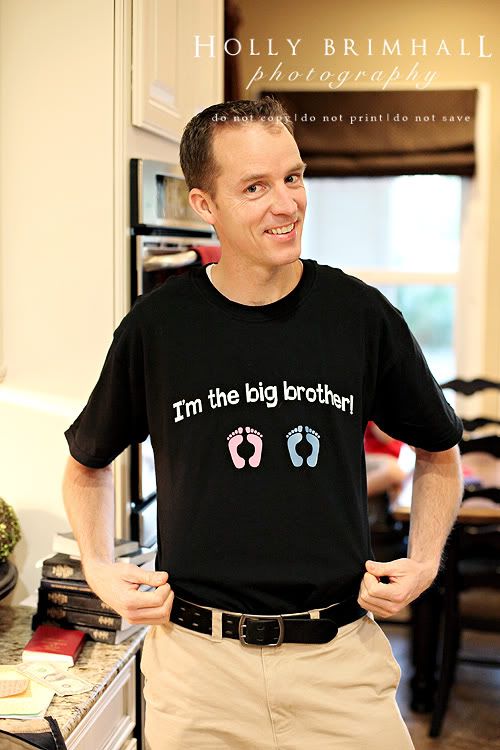 We laughed and laughed and laughed and were glad that everyone had a great sense of humor about it. Sure, it's a little strange for Brett to have some new siblings. Bear was all excited and said, "I'm an uncle now!!!" We said, "No. You have a NEW aunt and uncle." He was super, super confused, but we really can't wait to meet them. Especially, Moose. He wants to hold those babies!!!