Amazing music....
just lifts and refreshes your soul. It lifts you to higher ground. I'm grateful for how my parents taught me to LOVE music. Thankful that every school day we were woken up by my mom playing hymns on the piano. We knew when we heard those hymns playing gently on the piano that it was time to gather in the front room for family scripture study. Thankful that on Sunday mornings our home was filled with beautiful church music. I have beautiful memories of my dad relaxing in his recliner listening to Handel's "Messiah" or his current favorite Mormon Tabernacle Choir CD. Sometimes he would call us in and ask us to go and play a certain song for us. He would sit there with his eyes closed, listening to every note played, and just soak in the beauty of the music. I'm grateful that my mom, and piano teacher, expected great things out of me and that the love of music that was instilled in me at such a young age has continued with me throughout my life. I'm not gonna lie and say that I never gave my mom a hard time about practicing the piano. I often missed out on playing with friends in order to meet my 1.5 hours of piano practicing each day. But I love music! It is a part of who I am!
This past Saturday, we got to listen to amazing music at it's very finest. We attended the East Valley Mormon Choral Organization's performance "Bring the World His Truth", featuring the Arizona premiere of "Messiah in America.". Yes, we were SUPER excited that two of our kiddo's decided to participate in the choir again AND that our own Little Miss was asked to perform a duet (in front of thousands and thousands of people to two almost sold out performances) with her adorable, dear friend.
The kids were super excited that they got to bring a backpack with a pillow and some books to read. Hanging out at the concert hall from 2:45 in the afternoon until 10:15 at night makes for a REALLY long day!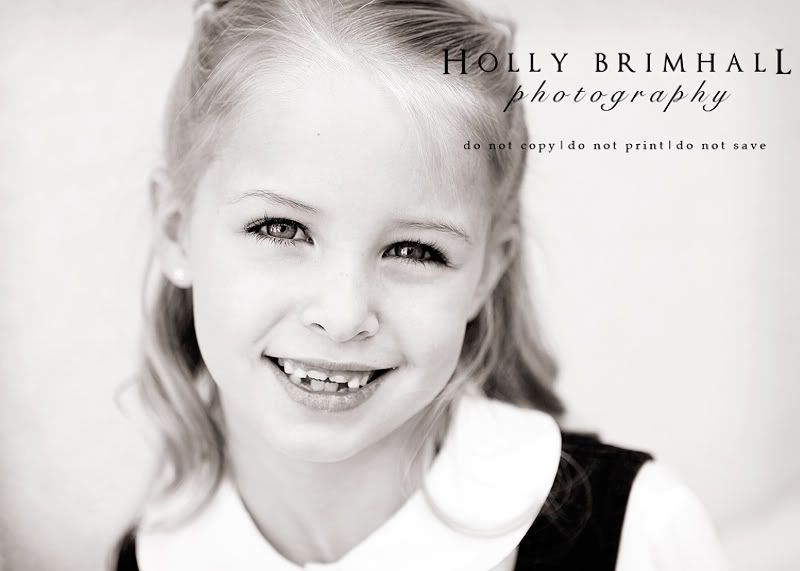 After we dropped the kids off at the Mesa Fine Arts Center for their sound check and quick run through, we took Moose to pick up his date for the concert. He was pretty excited and even picked out his own "nice outfit" to wear to the performance...
His date....Our favorite babysitter of ALL time, Julie. There really aren't words for me to even try to describe how much I ADORE this girl. She has loved my children like I do, been a breath of fresh air when I just couldn't take another second, and was an absolute LIFESAVER during our move. She would bring me lunch, pick up kids at one house and take them to the other, pack boxes, basically do whatever I needed her to do. I love, love, LOVE our talks the most. It's the best when Brett and I come home from a date and the kids are in bed and we just sit and talk and laugh with Julie for hours. We LOVE Julie!!! I can't believe she's going to be moving to Utah this summer. I think it's going to break our hearts! We're going to have to fly her home to visit us on a VERY regular basis!!!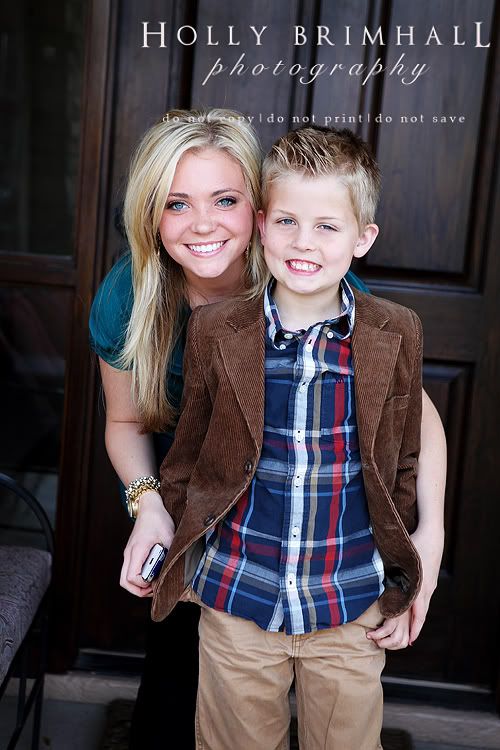 The concert began with Bear's group singing "Oh, How Lovely Was the Morning!" Whenever the youth and teen choirs sing, I just sit there in awe, covered in goosebumps head to toe, amazed at how professional they are. Amazed that they are able to share their testimonies with such strength and power. Wow! Two songs later it was time for Little Miss's group to take stage. Their first number was every LDS kids favorite song, "Book of Mormon Stories". My whole life I only thought there were 2 verses. Get this....there are 8! Their duet was the 6th verse, which has been Little Miss's bedtime song request for the last month or so:
Once two thousand sons of God were called to fight the foe.
Marching as an army into battle they did go.
The believed that Christ the Lord their guardian would be.
They had learned they should live righteously.
My heart began to race as the children took their place on stage. She walked confidently on stage and started to scour the audience. She knew we would be on the third row. She started looking down, down, down the row. To see her face light up as she saw me was a precious gift I'll never forget. As each verse was sung, I could see her nerves start to show a bit on her face, but as soon as it was her turn to sing, she just shone. They both did! As they sang together, I smiled. I smiled and smiled because I'm not sure that I ever could have done that. As they took deep breaths together, their shoulders rising and falling in unison, and singing like angels, I was so, so proud of my sweet Little Miss. They sang their duet PERFECTLY! Her group also sang "Jesus Is My Shepherd" and Bear's group sang "We'll Bring the World His Truth" (all four verses). Amazing!
Then we got to enjoy the Arizona premiere of "Messiah in America", which Bear will get to participate in the Utah premier this summer as they perform in the Tabernacle in Salt Lake City's Temple Square. As we sat and listened to the words that were taken straight from the Book of Mormon, in the book of 3rd Nephi, I was overcome with emotion. We read the scriptures each morning as a family, normally just one page each day. With 531 pages in the book, there's NO way that we could've planned to be studying that exact part of 3rd Nephi that was being shared with us through music that night. The music made it SO real to me! As the older children came on stage to join with the adults, they sang "Behold Your Little Ones" - (3 Nephi 17:21-23) "And Jesus wept and took the little children, one by one, and blessed them, and prayed unto the Father for them. And he wept again. And he spake unto the multitude, and said unto them: Behold your little ones." I could not help but imagine MY little ones being held and blessed and prayed for, individually, by our Savior, Jesus Christ. Saturday night's performance was one I will never forget!
We attended the 5:00 performance and then got to enjoy a delicious dinner with my parents, little sister Karli, and her husband, Jared. Then we picked the kids up and had some yummy frozen yogurt from Golden Spoon. Yum! Little Miss was SO excited to get to share some time with my mom!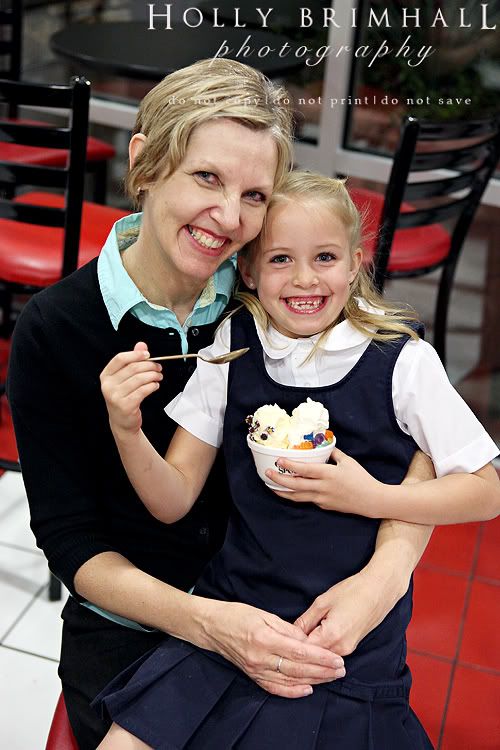 Amazing music truly lifts your soul!