2 months ago....
my honey took me to the Big Apple. I have ALWAYS wanted to go there to visit! Always, always, always! When Brett asked me what I wanted to do for our 15th anniversary (which was in August), I said, "Just take me to New York at Christmastime." I quickly started planning our trip and I LOVED every single second of it!
The only bummer was when our flight was delayed out of Phoenix 2.5 hours. Nothing like spending a few precious hours of your vacation stuck in an airport. Ergh!
We got into New York City later than expected and just hit up a local diner for a late dinner right next to this lovely apartment that we rented for our stay:
Totally recommend it!
It was in the Gramercy Park area. I loved that it was close enough to the main attractions, but residential enough that I could relax and enjoy myself. We totally loved the diner! Tasty!
The next morning, I, of course, could not sleep and dragged Brett out of bed. We caught a cab and headed to the Today Show. I'm rarely home in the mornings, but when I am home, I often turn on the Today Show. I thought it was the coolest thing to just be driving down the street and recognize places. I almost jumped out of my seat when we drove past Macy's at Herald Square. I've never missed watching Macy's Thanksgiving Day Parade. I was seriously giddy! Brett just smiled and shook his head a little at me!
I was maybe a little excited to be there!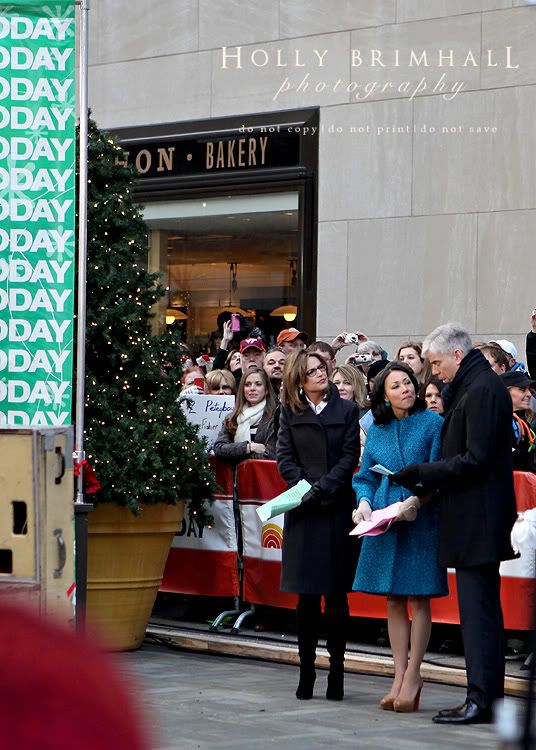 And then we spent the day seeing the sights.... The tree at Rockefeller Center...

We walked through St. Patrick's Cathedral. It was absolutely beautiful!

Did a little bit of shopping at FAO...

I made Brett dance on the big piano, which he was super excited about. I mean one of us had to. And you saw the boots I had on. It's no easy task getting the jeans tucked back in just right. I'm a little anal about it.

Awww, my sugar daddy...love him!

They seriously had the BIGGEST candy bars ever. That's where we got Bryson's big ole Hershey's bar.
We rode around Central Park in a horse drawn carriage, while we sipped on hot chocolate...

And totally loved listening to John, from Ireland, as he taught us about the city in his most gorgeous accent. Olivia, the horse, did awesome, too!

We got in line at Carnegie Deli JUST before the huge rush came. We got in line when there were about 20 people outside. By the time we got in the doors, there was a good 100 people lined up to eat. Absolutely worth the wait! Yummy pastrami sandwiches, tastiest pickles on the planet, and to-die-for cheesecake. Yah, I was totally off my diet. It rocked!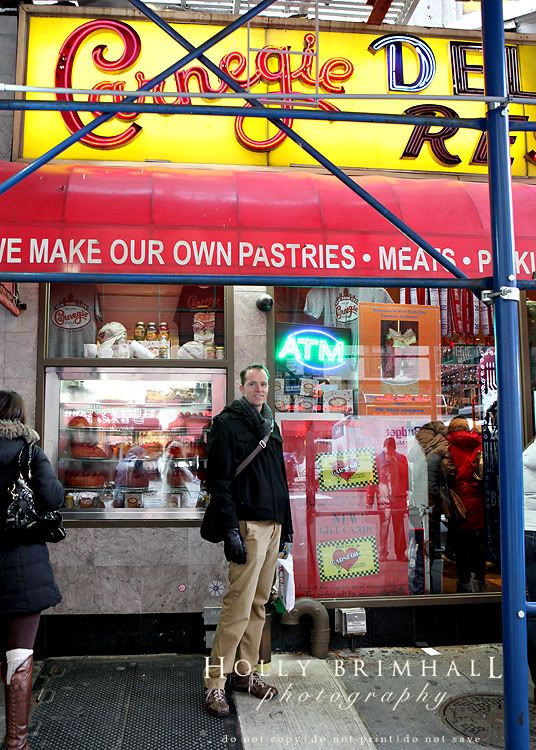 We also walked around Times Square...

Went to the Top of the Rock and enjoyed the view....

And then I put my camera away and didn't use it again. Let's see if my memory can think back long enough to remember everything I loved about New York....
- Radio City Music Hall and saw the Rockettes
- window shopped on Fifth Avenue
- stood in line to get half-price tickets to see "Memphis". Oh my amazing!
- ate at Lombardi's, the first pizzeria in the United States
- got some grilled corn "Mexican style" at Cafe Habana
- devoured cookies from Levain's Bakery. When they say they are "possibly the largest, most divine chocolate chip cookies in Manhattan" they aren't lying. The dark chocolate peanut butter was my favorite, though. My mouth is watering right now!
- shopped on Canal Street in Chinatown. A little bit creepy....not gonna lie!
- strolled through Little Italy
- admired the beautiful architecture
- ate some amazing bagels
- had the best sushi I have ever had in my life (right by the apartment we rented and I cannot remember the name). But there was a chilean sea bass roll...I would go back to New York JUST to have that sushi....well and some cookies from Levain's.
- rode the subway (quite a few times, actually)
- strolled through Central Park
- walked through the Metropolitan Museum of Art (Brett told me that was his least favorite part. Ha ha! I'm trying to bring some culture to his life.)
- thought about grabbing some dessert at Serendipity until we found out it was a four and a half hour wait. Wait, what? Did you just say four and a half hours. Um, no thanks.
- we even tried out a bike taxi when no cabs would pick us up to take us to Times Square on Saturday night. We made it to the theater just in time to see Memphis. Did I mention that I totally loved it?
Hopefully I'll remember a few more things. I'll see if I can jog Brett's memory. I absolutely loved our little trip to NYC. I learned that big, big cities are fun....for a few days. That I really don't like to be cold and sometimes 4 layers of clothing is not enough when that wind starts to blow. That I might get really chubby if I lived in NYC, because the food is absolutely irresistable. Tasty, tasty stuff! That New York is a city like no other! Can't wait to go back!