The wise man built his house upon a....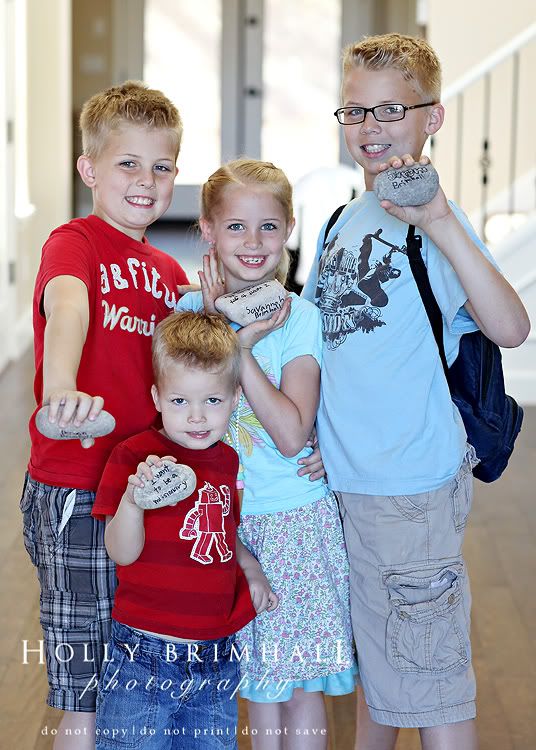 ROCK! Or in the case of the Gilbert, AZ Temple....a whole bunch of rocks! All of the children were invited to write their name on a rock along with a goal or a favorite scripture story to become part of the foundation of the temple. Just before heading up to Greer for
conference weekend
, we got our rocks ready and then had a great discussion in the car with the kids as we started our journey to the cabin. We talked about our testimonies and having that knowledge of our Savior as our own personal ROCK. I look forward to having another temple here in the valley, just minutes from our new home. I can't wait to take the children inside and to know that the temple was built on their rocks and to watch their testimonies grow!
Conference weekend was wonderful! So wonderful that my camera stayed nicely tucked in it's own bag. The weather was AMAZING! Although there was no snow, like there was
last year
, which the kids were a bit bummed about. But it was perfect weather for a picnic by the river, a run with the hubby, relaxing by the fire, playing games, building lincoln log mansions, and coloring endless amounts in Little Miss's stack of coloring books. We did drive around to find a small patch of snow for a little snowball fight and cut some pieces of wood off of some fallen Aspen trees for a little craft project. A highlight of my weekend was at the end of mine and Brett's run. On our way back to the cabin, we headed through the campground that is on the other side of the meadow. They have a small amphitheater, and since the campground hasn't opened for the camping season yet, the whole place was vacant. Brett asked me for a private Zumba lesson. I could NOT catch my breath, I was laughing so hard! As athletically talented as he is, he simply does not have a single dancing bone in his body. Man, I love to laugh! And he's great at making me laugh! Love that man of mine!